Y4 Spring 2022
Learning Highlights from Spring 22:
In the Spring term we have enjoyed reading The Night Gardener by Terry Fan and The boy at the Back of the Class by Onjali Q Rauf.  In English we have written an interesting description of William's world (main character from The Night Gardener) and built up our grammar skills to retell the story.  Science has involved identifying different parts of flowering plants and their functions.  As a class we grew cress, discussing and observing the requirements of plants for life and growth.  We have enjoyed investigating how water is transported within plants, as well as how seeds are dispersed.  The children planted a sunflower seed, cared for them in school and observed how they grew over time, these are now at home and we have a class competition to see whose sunflower can grow the highest! 
In Y3/4 we love to be creative!  In art we created beautiful observational drawings of daffodils, children had to carefully look at the features and draw each aspect, thinking about size and perspective.  In DT we used wire to sculpt flowers and leaves.  We have been lucky enough to continue our weekly drumming lessons with Joolz, we have been concentrating on our accuracy and control.   
In PE we have had fun developing our tag rugby skills with James Lofthouse.  We also started the half term doing dance fitness with Miss Chamberlain which resulted in choreographing and performing our own dance routine.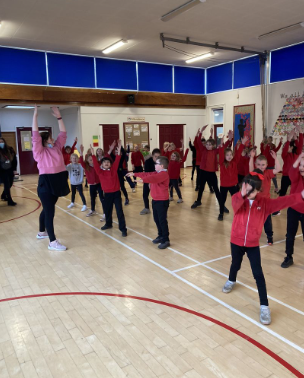 New Learning Highlights Summer 22
This half term our geography focus is rivers, whilst studying rivers we will be reading The Wind in the Willows by Kenneth Grahame.  This classic tale follows several animals throughout their adventures on a riverbank.  In English we will be writing a character description as well as a diary entry from the perspective of Mole. 
Our Geography key learning question is Why are so many of the world's cities situated on rivers?  We will explore how a river is formed, looking at the upper, middle and lower course and develop our geographical vocabulary and knowledge through exploring erosion and deposition.  We are looking forward to using atlases to find where many famous rivers are located in the United Kingdom and globally. 
Science will be taught discretely each week, covering states of matter.  We will compare and group materials together according to whether they are solids, liquids or gases and experiment to see how materials change state when they are heated or cooled. 
We are lucky enough to have parents who are skilled in sewing, they will be coming into school to teach us how to do a basic stitch, we hope to be able to create an animal from scratch using the skills we learn.     
Y4's will continue to work hard on their times tables as the run up to the times table test approaches in June.  This will involve lots of multiplication games and a focus on multiplication and division.
Key Class Reminders
Below is a list of the compulsory activities we expect the children to complete each week. Each of the activities supports your child's learning in school and provides your child with the opportunity to practise basic skills.
Compulsory activities:
Daily reading for 10 minutes.
Daily practise on spellings sent home each week.
Times timetables practise (Times Tables Rock Stars website is a useful tool – each child has a login and your child has specific times tables they need to practise.)